Best Multi-Camera Live Streaming Setups For Social Media
Congratulations! You've decided to take the plunge into multi-camera live streaming. Now it's time to get the best multi-camera live streaming setups and deliver your live video to all your social media channels in one go.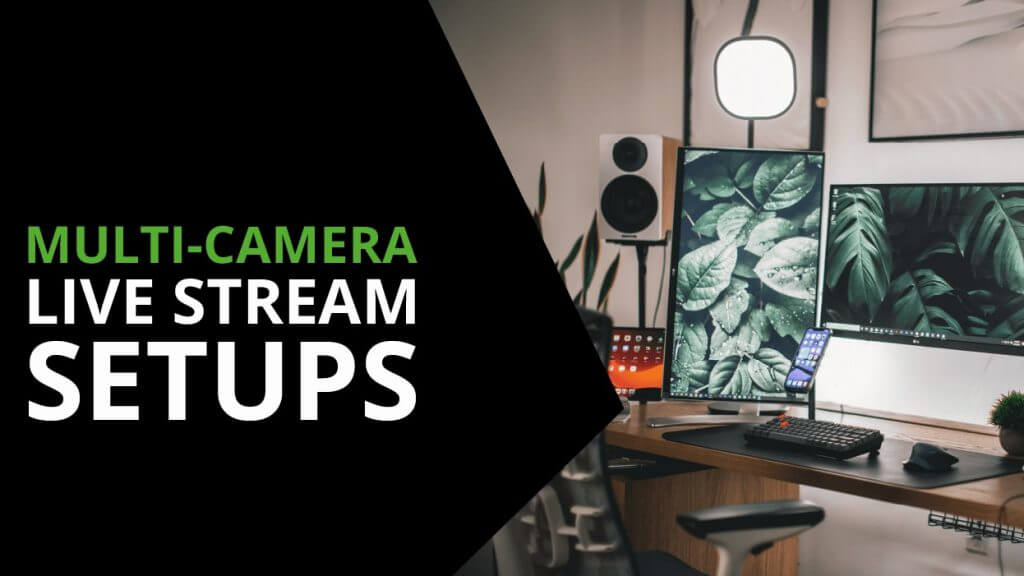 Intro
Live streaming has grown and expanded in a powerful way. Anyone can create a live stream and cater to specific niche audiences. Individual creators of today are now making multi-camera live streaming setups for their audiences to better engage.
Many social media platforms have exploded with streamers and live stream viewers. Almost any internet-enabled device can launch a live stream on YouTube, Facebook Live, Instagram, Twitch TV, TikTok, and many others.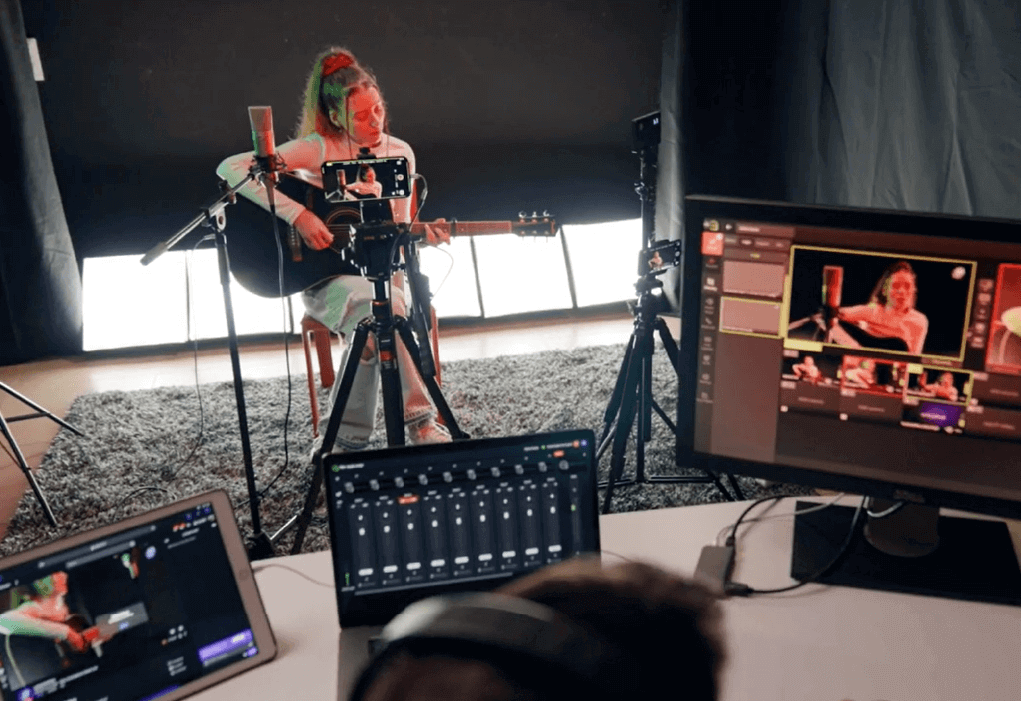 Live streaming platforms have made these easy to do and affordable to use, without any expensive equipment costs. TVU Producer, for example, has made it very simple to launch a live stream with multiple cameras and distribute it to many platforms at the same time.
The ease of access and affordability breeds creativity, content quality, and competition. Today the main focus for broadcasters is to get the best quality without raising the budget.
In this article, we discuss multi-camera live streaming setups you can use for social media, and point you in the right direction to achieve professional results on an amateur's budget.
Discussions
What Is Multi-Camera Live Streaming
Why Use Multiple Cameras For Live Streaming
Common Difficulties When Streaming Multiple Cameras On Social Platforms
Best Multi-Camera Live Streaming Setups
Equipment Needed For A Multi-Camera Live Stream
Multi-Camera Streaming On YouTube, Facebook, Twitch, And More
Considerations When Streaming Using Multiple Cameras
Conclusion
What Is Multi-Camera Live Streaming
Multi-camera live streaming is just what it sounds like, capturing and transmitting live video from multiple camera sources and streaming them all at the same time while switching between them as often as the operator chooses.
Streaming multiple cameras live reduces the effort of editing and compiling different scenes. There are many events that use multi-camera live streaming like live concerts, sports broadcasting, gaming, shopping, and entertainment from various creators.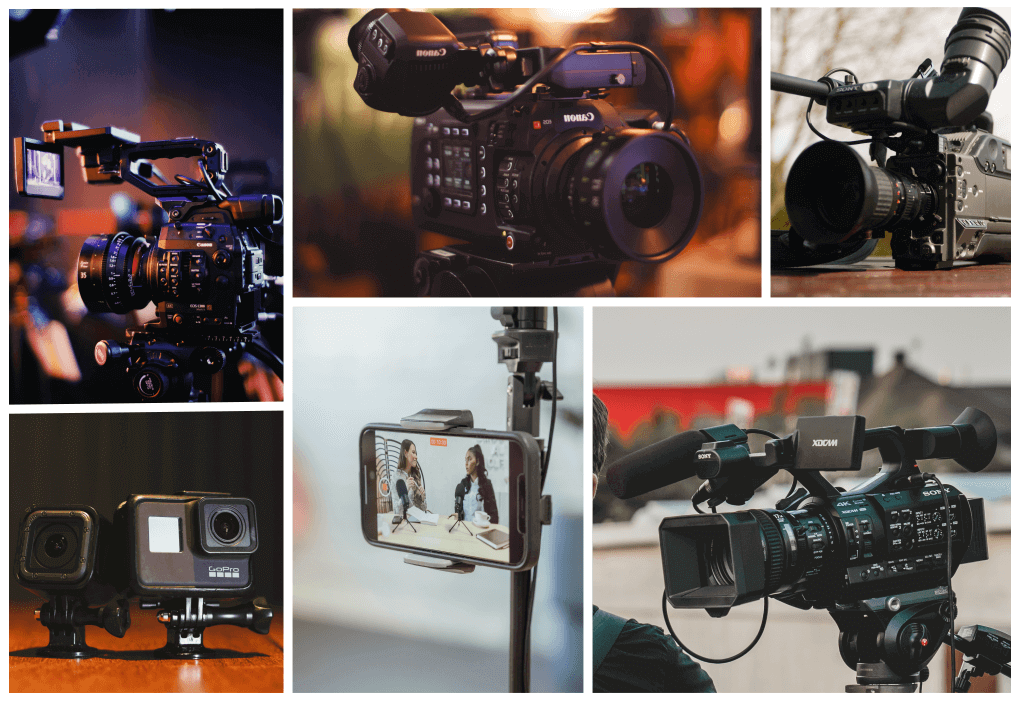 Depending on your level of creativity and organization, you can easily create a live stream setup perfect for your audience. Below we discuss how this enhances the quality of the broadcast and engagement for your viewers.
Why Use Multiple Cameras For Live Streaming
Multi-camera live streaming makes the live video more engaging. Not only that, but it also presents a level of profession. For many different audiences streaming with multiple cameras can:
add more excitement for your viewers
better present information and angles
bring groups of people together by having more than one host
And much more. But, how can a multi-camera live stream be more exciting than a single-camera live stream?
In the video production industry, using multi-cameras has always been the way to produce big-budget films, tv shows, live events, live broadcasts, and more.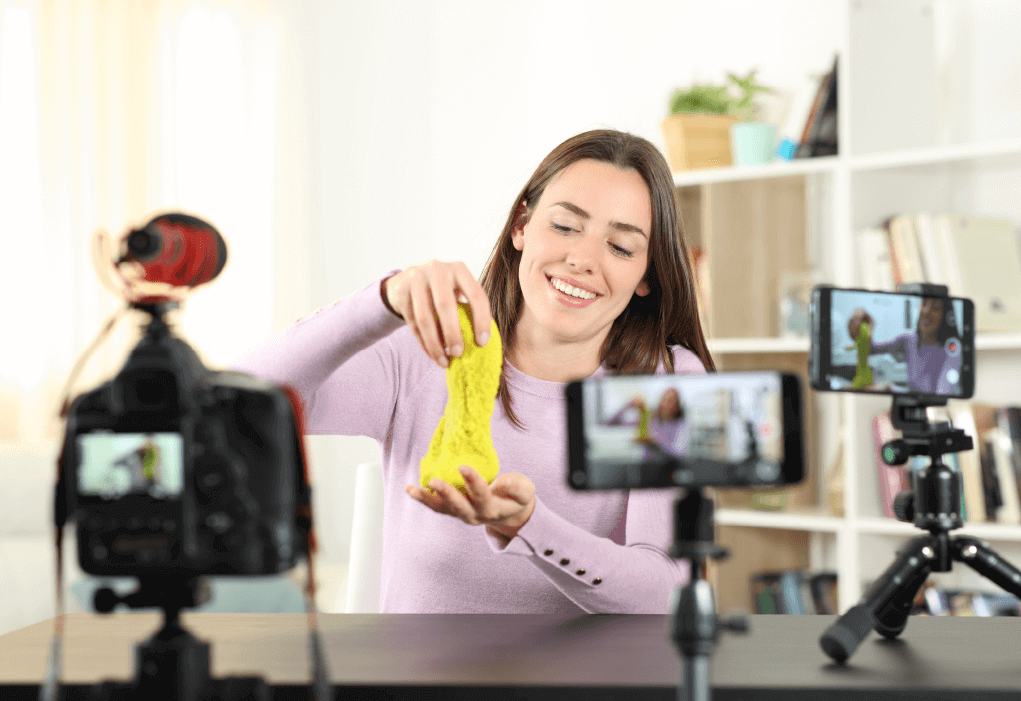 Switching between different shots, whether being a still broadcast or a live-action, gives viewers real-time experiences from different perspectives. It establishes the orientation for the viewer depending on the shots being switched.
In a big sports event, you could have one camera position of the entire field, one with the host, and another on the field. In a biking race, you could have a camera shot of the overall race, one on a helmet, and another on the host. For example, the video below presents a live stream of two extreme athletes streaming their 700KM ride on Twitch.
This can become much more extensive depending on your creativity and the level of excitement you want your viewers to feel and experience.
Live streaming on Facebook, YouTube, Twitch, Twitter, and many others online follows the same concept: streaming split screens, streaming picture-in-picture, and live stream gaming. The use of the different shots enhances the thrill with your viewers, creates better engagement, and is a great way to deliver a story.
Common Difficulties When Streaming Multiple Cameras On Social Platforms
There can be potential problems when creating and launching a multi-camera live stream. Creating an organizational outline of how your ideal setup should be would benefit the outcome. There are ways to avoid acquiring the extensive resources needed.
Some of the most common difficulties for a multi-camera setup would be:
Learning Curve
Budget
Equipment
Streaming Platform
Multi-Camera Features
Need for a crew
One big problem when live streaming multiple cameras online with social media platforms is it can be very difficult, expensive, or impossible to get certain setups desired for the multi-camera live stream you want.
Below we go over some of the most popular and highly desired multi-camera live streaming setups to use on social media channels. Not only that, but we also show you how easy it is to get these different setups, use creative features, and launch your live stream to all your social channels in one go.
What may have been difficult and expensive before is now affordable and accessible today. Let's get started.
Best Multi-Camera Live Streaming Setups
A good place to start planning your multi-camera live streaming setup is to figure out why you want to use multiple cameras in the first place.
Perhaps, you plan to have in-studio (that is, a home studio) guests, or maybe you want to bring in remote guests. Then multi-camera production is the answer. To look further into a multi-camera home studio setup check out the video below.
Maybe, you don't plan to have any guests at all. There are still good reasons to use multiple cameras for your live streams, such as incorporating a document camera or building some visual excitement with a camera pointed at a busy street, mountains, or some other interesting scenery. Or, it's possible that your setup is some combination of all these.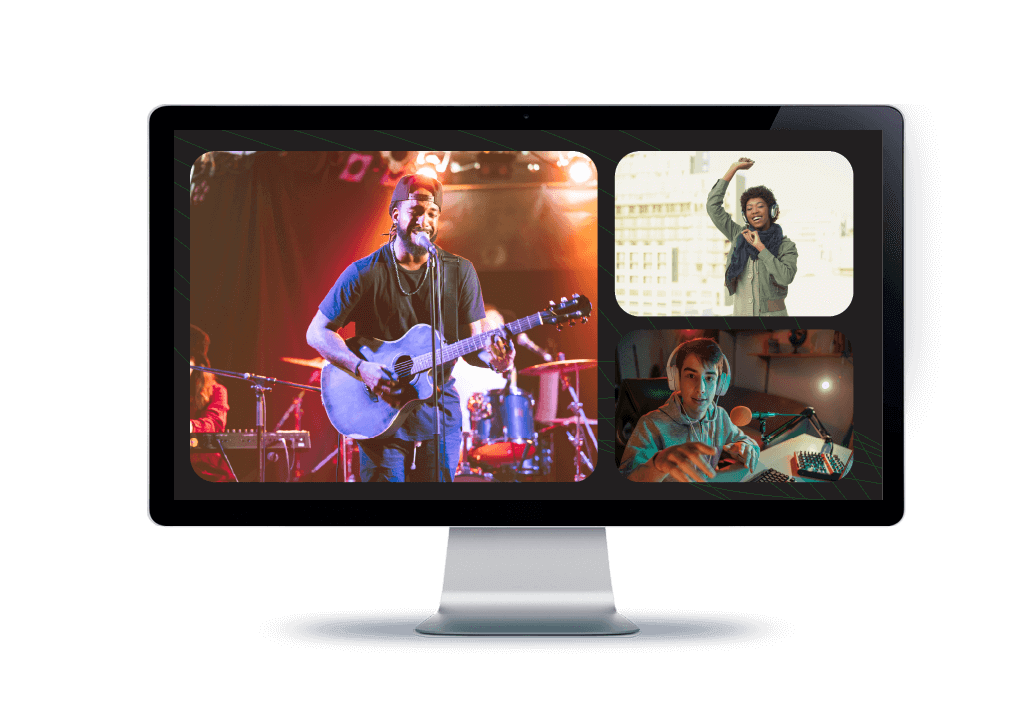 Whatever your reason or specific setup, you will need a way to switch between cameras for your multi-camera live stream to work. You could buy a video switcher with multiple video inputs, or you could use a cloud-based video production solution, like TVU Producer, that's available on a pay-as-you-go basis. (The first 20 hours are free – after that, it is less than 50 dollars an hour.)
Basic multi-camera streaming setup
With TVU Producer, you can be the star and producer of your own social media live stream. Here's how. Video from each camera –a smartphone, media tablet, or video camera—streams via the internet to a TVU Producer session in the cloud.
You access that session from your laptop or desktop computer and switch between cameras, adding pre-produced graphics and text, rolling in pre-record video, and adding effects as needed.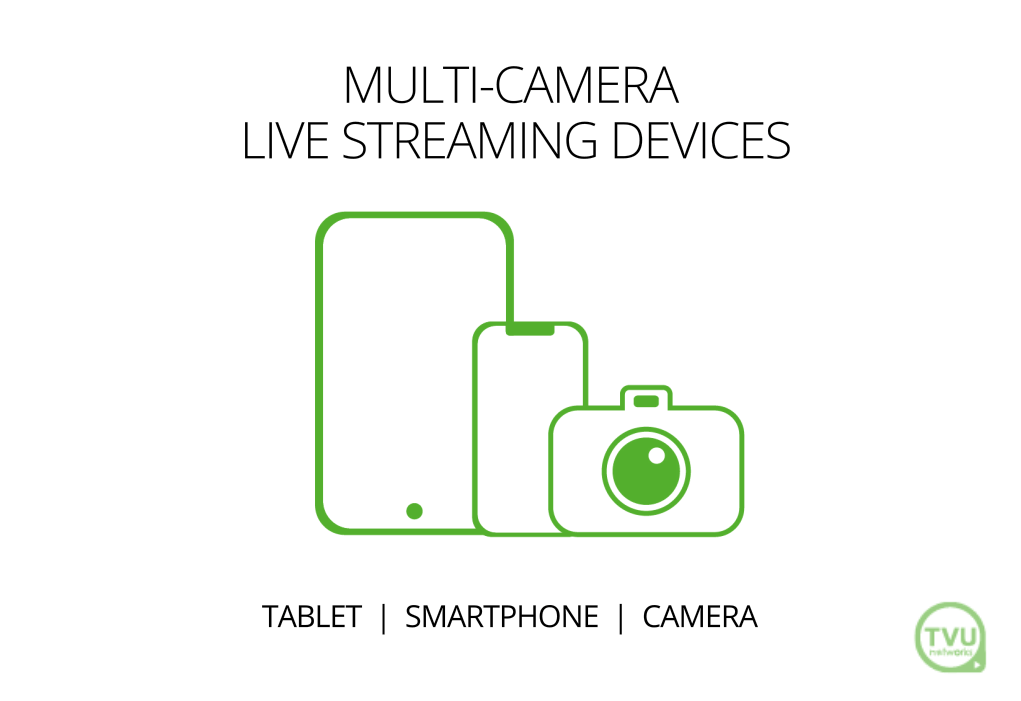 Before you start your show, you select from within TVU Producer your own social media channels, which you've previously set up and credentialed, as the destinations for your show.
If your social media operation isn't a one-man band, someone else can switch and stream your program, allowing you to focus entirely on your show.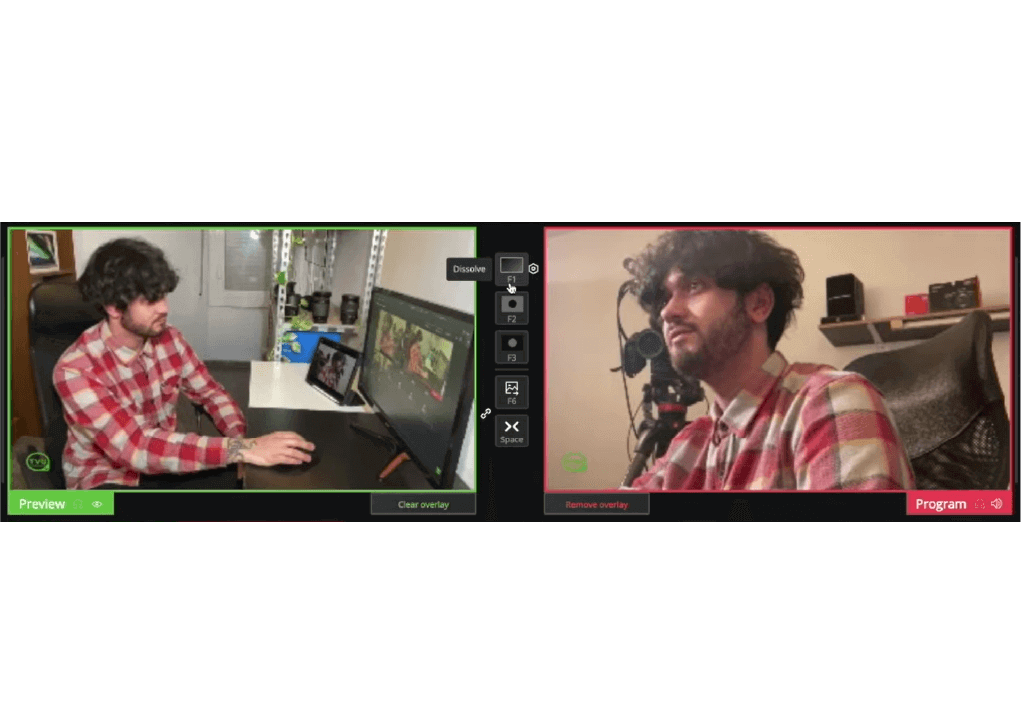 2. Single-Host Multiple Camera Setup
If you only plan to have yourself on camera and no guests, there are plenty of reasons you may want to live stream with multiple cameras.
First, you might want to augment the video from the camera positioned in front of you with shots from cameras pointed at you from other angles—perhaps 45 degrees off the dead-on shot, a high-up angle pointed downward at you, and/or a close-up.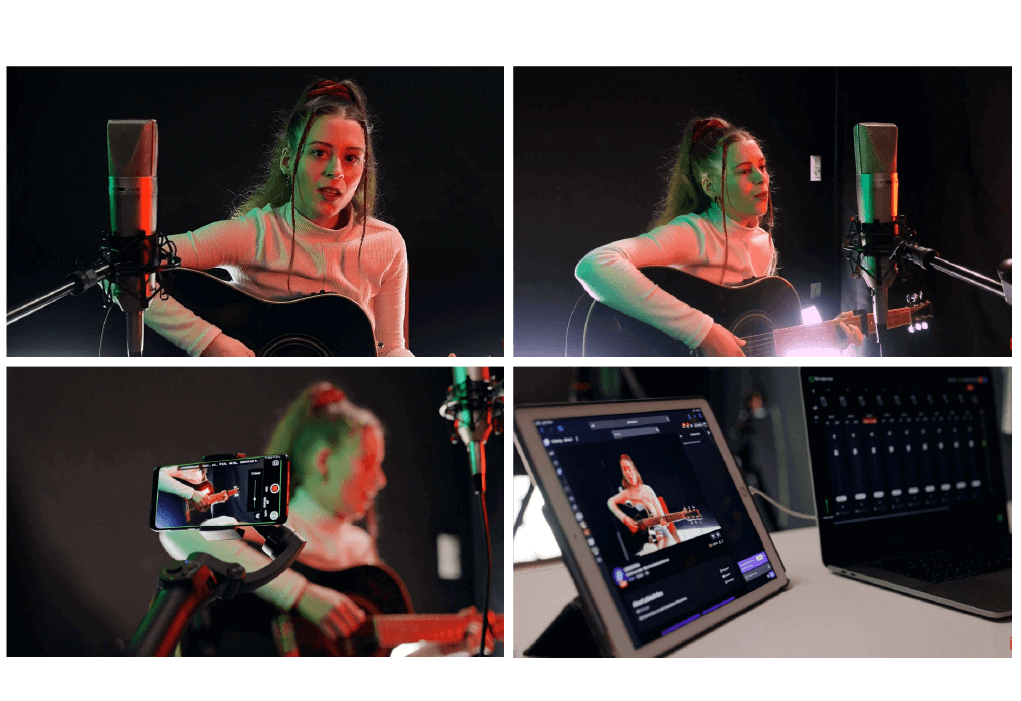 Switching among the cameras can keep things visually fresh, especially since you're the only one on camera.
3. Multi-Host In Multi-Camera Setup
The same concept as above, but in this instance, there's more than one host. Each can have multiple cameras with different angles and distances. It might also be desirable to have a two-shot of both hosts from a single camera if appropriate.
4. Host(s)-Guest Multi-Camera Live Setup
Similar to the multi-host-multiple camera setup, this setup may simply add one camera for each guest position in the studio and/or a camera to capture all of the guests in a single shot.
Special Shots and Such
Depending on the subject matter of your social media live stream, some specialty shots might be needed. If the subject of the live stream is snowboarding, maybe a shot from a camera locked down on a nearby run makes sense.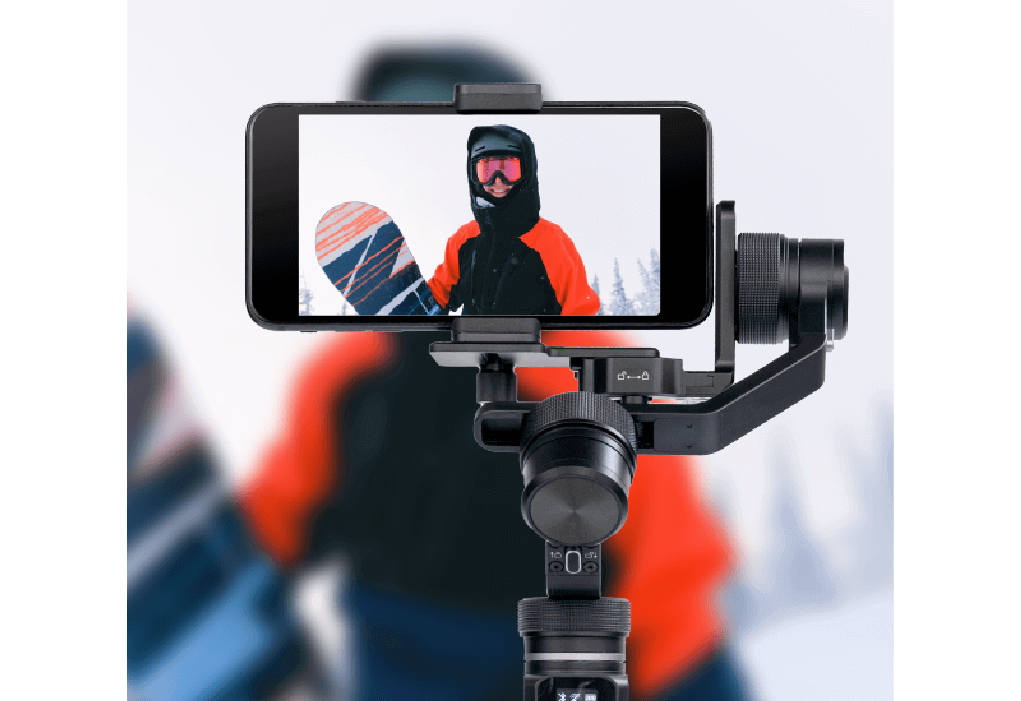 If your subject is cooking, a point-of-view (POV) over-the-shoulder camera might be a great addition to capture what you're mixing up in a bowl.
How To Setup a Multi-Camera Live Stream Using TVU Producer
If you are looking to try out any of the setups mentioned above you can get started now with the multi-camera live streaming setup tutorial video. In this video, we show you all the equipment you need and how to use TVU Producer.
We also show you how to use the live streaming app, TVU Anywhere, if you only have a smartphone or tablet. You could then add your laptop's webcam as an input source for 3 different views.
From there you can then select your social channels, login, and start streaming to all of them together.
Equipment Needed For A Multi-Camera Live Streaming Setup
Multi-Camera live streaming can be difficult and expensive when using hardware and software equipment. This requires high budgets and experienced individuals managing the equipment. But today there is a more efficient way to produce and launch a live stream using multiple cameras from multiple locations anywhere around the globe.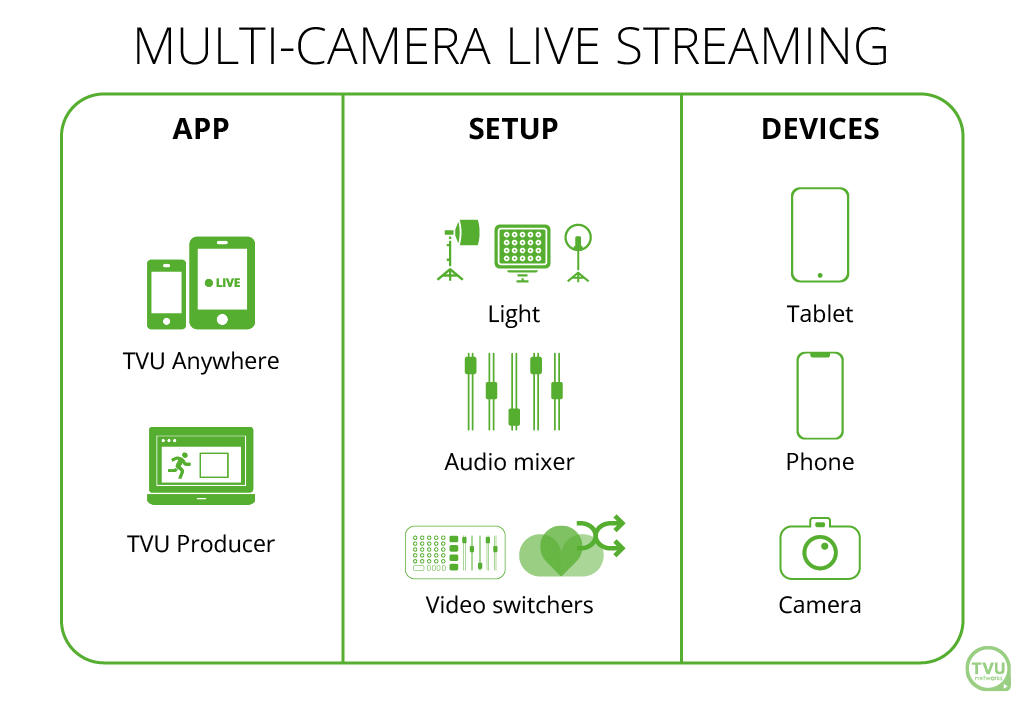 What types of multi-camera live streaming equipment are needed:
Live Streaming Platform or Apps
Multiple Cameras – Smartphone, Tablets, Cameras, etc.
Video switcher
Audio Mixer
Lighting (if not outdoors)
There are many multi-camera live streaming solutions available, but using a cloud-based live streaming platform we are able to meet all these needs with the ability to stay within budget. Below we go into some specifics to know so that you can produce a quality multi-camera live stream all in a low-budget production.
Live Streaming Software or Platform
The main focus is how will you make your multi-camera setup go live? You want to make sure the platform you are using will provide all the features necessary to stream multiple cameras to different social channels simultaneously.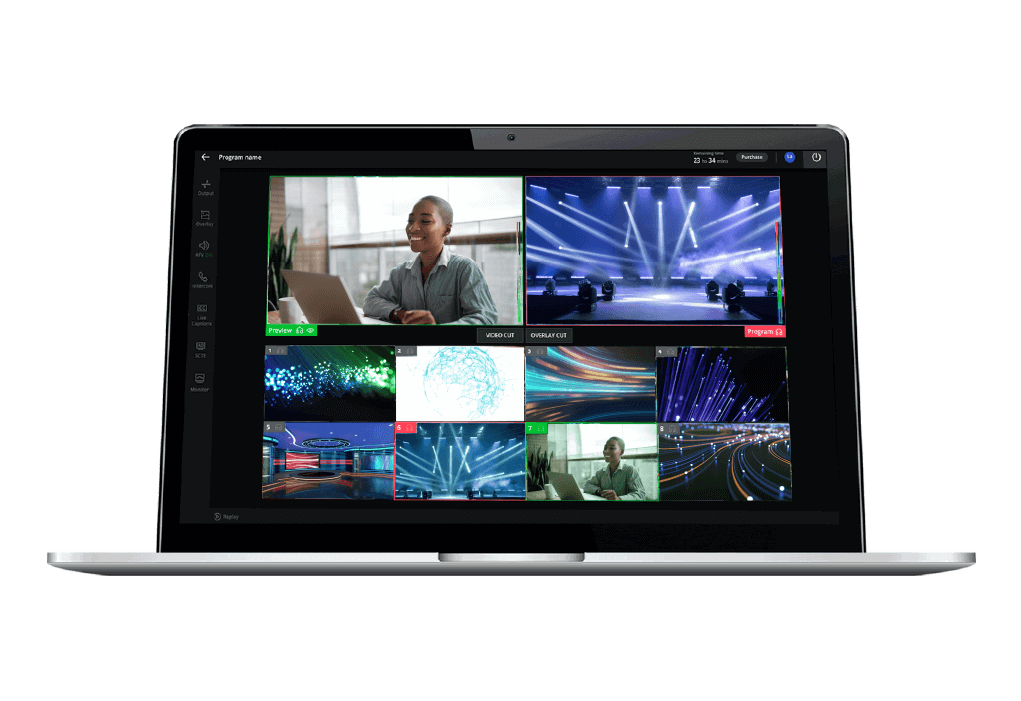 Those features to even manage as one person are needed in order to produce quality content for multi-camera live streams.
Here are some important features needed to achieve this.
Mixing tools for live video
Switch between different input sources in real-time
Audio mixer
Live graphics and video effects
Green screen or background color support
Overlay and lower third support
Multiview ability
Distribution to different social media platforms
Using a live streaming platform, like TVU Producer, to import sources, switch videos, mix audio, and distribute to different social platforms together all in the cloud reduces how much money you need to spend on new equipment for live video production.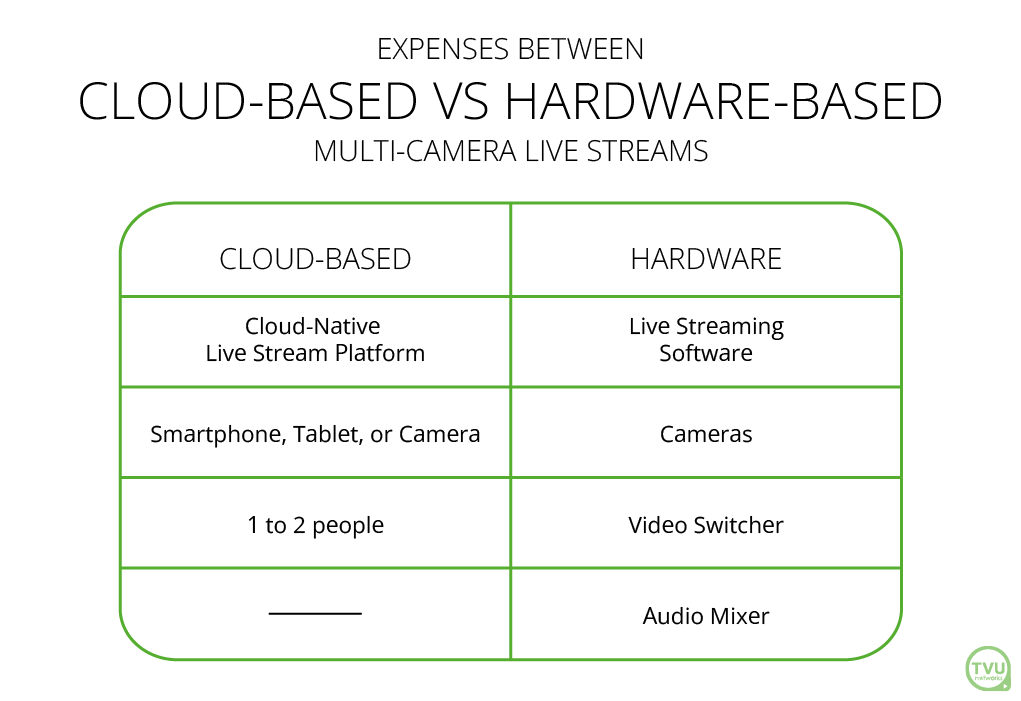 Cloud-based live production makes it very easy to use many different features in the cloud that would otherwise be either a hardware/overhead expense. Now it's easy for one person to have the ability to manage it themselves if needed.
Live Streaming Apps For Multi-Camera Broadcasts
If it is desired to do everything from your smartphone a broadcasting app with multi-camera features is necessary. We have the TVU Anywhere App which allows you to live stream from any location.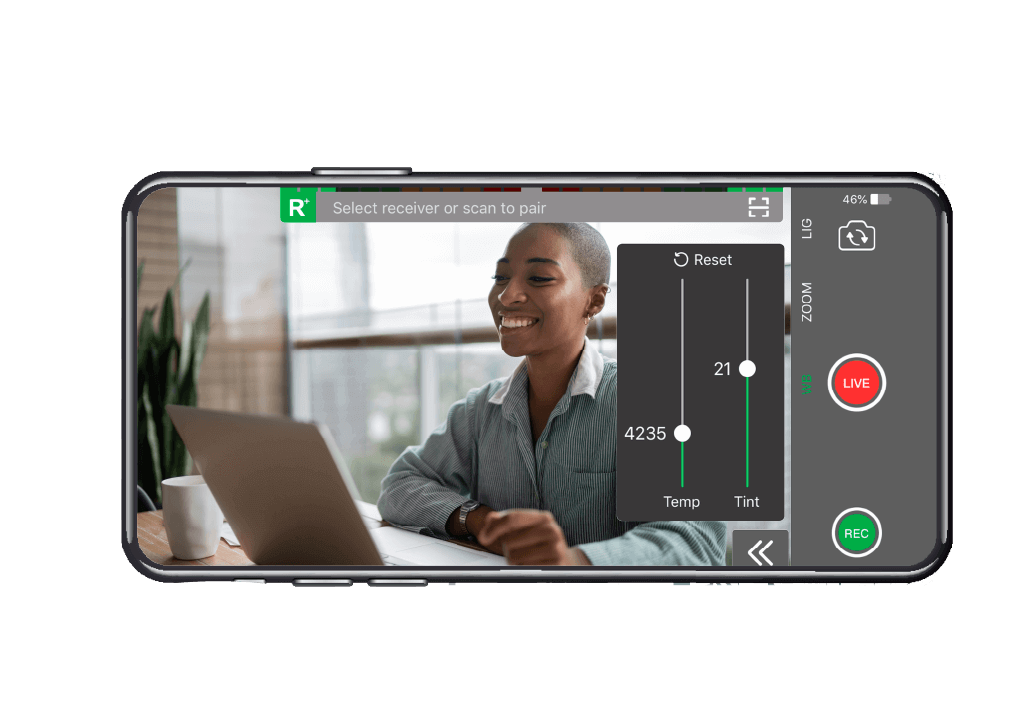 One can manage TVU Producer while input sources using the TVU Anywhere App allow broadcasters to go live in a multi-camera setup.
To do this just connect your smartphone or media tablet by first downloading TVU Anywhere App from Google Play, the Apple App Store, or Microsoft.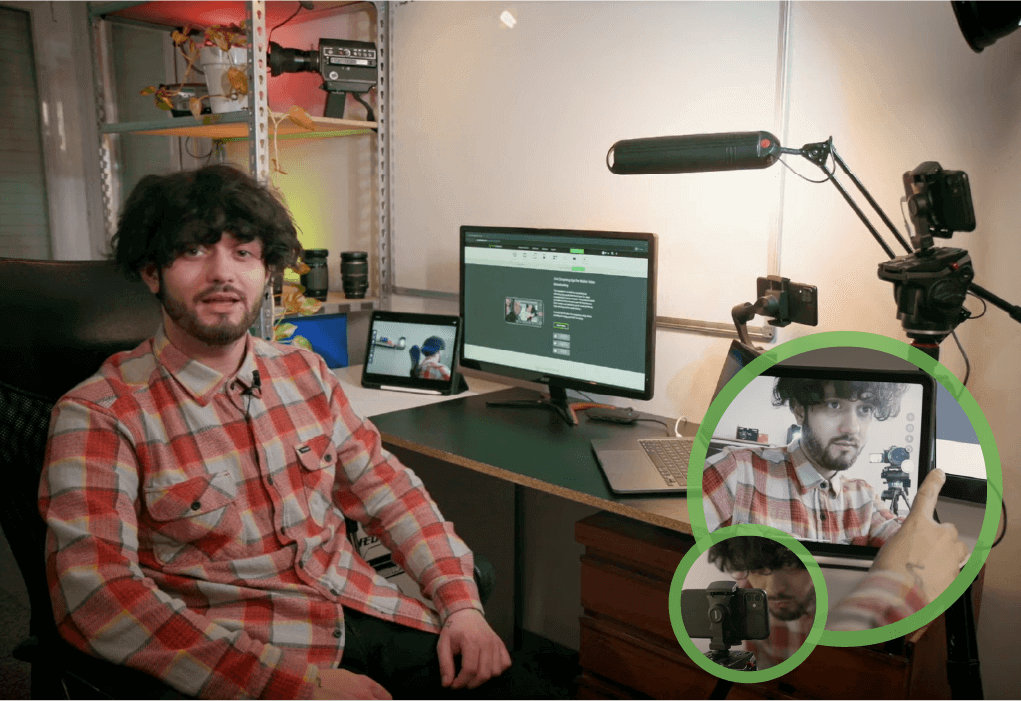 From the TVU Producer interface, click +Add Source and scan the QR code that appears on the interface screen with your smartphone or media tablet. Repeat for every camera from a new source box on the interface.
Being able to live stream from your phone is a great way for streamers and broadcasters on the go. You can learn more about how to use this broadcast app in this video.
Multi-Camera Input Sources – Smartphones, Tablets, Cameras, and more
Whether using a cloud streaming platform (TVU Producer) or a Live Streaming App (TVU) Anywhere) there needs to be a way to input many different sources of video from different types of devices.
TVU Producer has the ability to import from any video recording device as long as it has a connection to the public internet. Whether live streaming with an Android, iPhone, camcorders, GoPro, DSLR, and standalone cameras with SDI or HDMI outputs.
Your video devices need to connect and transmit video to the live stream platform where the live production of your content can happen and be distributed to YouTube, Facebook, Twitch, Twitter, Instagram, and others simultaneously.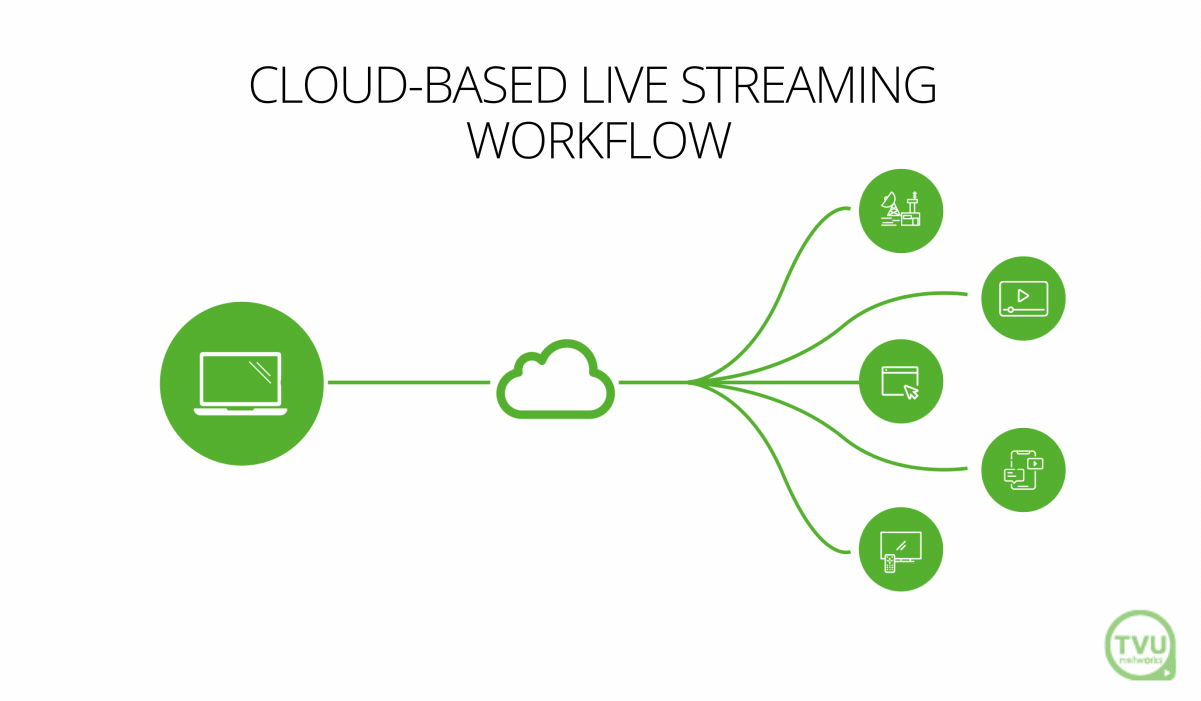 If you are transmitting video in different areas or maybe streaming live videos in an outdoor environment, you can build your own streaming backpack within a small budget.
Video Switcher
Having the ability to switch between cameras to present your audience with different views is one of the most powerful features of a multi-camera live stream.
It wouldn't be much of a multi-camera stream if you couldn't switch between multiple cameras.
There are two types of video switchers out there – traditional hardware video switchers and cloud-based video switchers.
Each has its pros and cons. But it is very dependent on the format of your setup. For most producers or streamers that are on a budget and have a desire for more efficient use, cloud-based would probably be your best bet.
Hardware video switchers require someone who has experience in using them and setting them up for the best performance. When using a video switcher in the cloud it is simply clicking through the different views.
TVU Producer has its own cloud video switcher with additional features that not only make it easy but also give the best latency and configurations for switching between different multi-stream input sources. Not to mention all the other features that come along with it.
For social media, a cloud video switcher is what most streamers would use to limit the amount of equipment and extra hands needed to start streaming.
Audio Mixer
Micing and mixing audio is another important aspect of your production. It's such a big topic that it warrants its own blog. However, for the purposes of this blog, it is sufficient to note that one of the functions of TVU Producer is an audio mixer and that the cloud-based solution supports audio follow video.
Lighting a multi-camera live stream production
Lighting your show properly will be important and is well beyond the scope of this article. However, here is a great tutorial to help you set up lighting for live video.
Multi-Camera Streaming On YouTube, Facebook, Twitch, And More
One of the best benefits of live streaming on platforms like YouTube Live, Facebook Live, Twitch, and Instagram Live is the ability to scale to a limitless amount of viewers.
All the more reason multi-camera live streaming on social platforms is essential to the quality and excitement of your live videos.
While the platforms make it easy, accessible, and free to reach your audience there are a few drawbacks when it comes to streaming multiple cameras directly. This and a few other streaming features are mostly not available:
picture-in-picture
screen sharing
adding pre-recorded videos
streaming multiple cameras
Launching your multi-camera live stream using TVU Producer from your laptop or TVU Anywhere from your mobile device will not only deliver the live video to all your social channels together but also provide the features missing from social platforms and more.
Doing this to enhance your engagement and take advantage of what each platform offers live streamers is the best of both worlds. At the same time, it's very easy to set up and start in TVU Producer.
Once you've set up your social media live streaming channel, simply enter your desired configuration information, such as whether you want a 720p or 1080p stream, and your credential information for each channel you wish to use.
When you are preparing to go live with your show, simply check off which live streaming sites you wish to use, and TVU Producer will handle the rest.
For times when you are away from your studio and you want to go live right from your smartphone, TVU Networks has added the ability to stream live to multiple social media sites directly from TVU Anywhere.
You can even invite guests to join via their own smartphones and control when they come on and leave your show. This approach turns the smartphone cameras of your guests into sources for your remote live stream.
Considerations When Streaming Using Multiple Cameras
A cloud-based live streaming platform can be operated by a single individual or a small group. But there are some important factors to be aware of while live streaming multiple cameras for social media platforms.
Make sure your connection is efficient enough between all the video input sources. Here's a list of the best multi-camera live streaming apps available giving you the ability to connect multiple cameras together and stream directly from the app.
TVU Anywhere is one of the best in this category providing the best connection from a smartphone device.
Be sure to list a priority camera as the master shot while other cameras or input sources can be used for different purposes. With this camera, you can always switch back too for most situations.
Pay attention to the shots that are more close-up or capture something more interesting. You will be able to switch properly from the master shot between the close-ups. If you happen to lose any positioning of a close-up shot you always have the master to fall back on.
Conclusion
Any of the multi-camera live stream setups listed here can help build your audience and drive success by setting your channel apart from many others. Just choose what's best for your audience. You may even find a more creative setup in the process. Your priority is creating and delivering relevant, engaging content that people want to watch.
When you can combine killer content with a great multi-camera production, however, you've set the stage for success and given your live streaming audiences on various social media channels great reasons to watch.
Like what you've read?
Receive insights and news to your inbox.